With a wide variety of vanity solutions and upgrades for your bathroom,
K-Wood is your #1 resource for custom bathroom cabinets in Toronto
Having the perfect vanity in your bathroom can not only elevate your mood during your morning routine but can make storing your products a lot easier.
We offer a number of different styles, sizes, and finishes to meet your needs, both functionally and aesthetically. Whether you need to replace an older fixture or would like to upgrade your current unit, we can build and install that new, durable and elegant vanity that you've been dreaming of.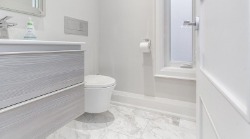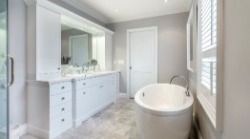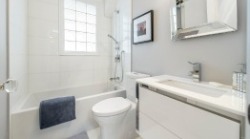 Have a project in mind?
Let the professionals at K-Wood turn your bathroom cabinets in Toronto into the elegant and functional vanity you have been dreaming of.
From marble to MDF the choices and customization are endless. Come visit our showroom today to get inspired or talk to one of our knowledgeable team members about taking your bathroom cabinets in Toronto to the next level.
WHY US?
competitive pricing
Our on-site construction and design facility helps keeps costs reasonable, and we believe in passing this value onto our customers.
5 YEAR WARRANTY
On all our renovation services.
50 Years Experience
K-Wood has over 30+ enthusiastic team members that bring our clients over 30 years of combined cabinet making and renovation experience. Through creativity, knowledge, and craftsmanship, K-Wood has the capacity to undertake your unique project regardless of complexity.
INCREDIBLE FACILITY
With over 30,000 square feet of manufacturing, including CNC and Thermo Foil machines, three state-of-the-art paint spray booths and a newly expanded and renovated showroom, K-Wood is your one-stop shop for all your renovation needs.
Tight Quality Control
As a result of having our manufacturing on-site, we can monitor every detail of each project very closely ensuring only the best quality products.
Great Support
Our caring team is with you every step of the way. We are always available to take your call and help in any way we can. Building a open and trusting relationship with each customer is part of how we do business.
Contact Us
If you are a Toronto contractor and want to partner with us for custom cabinets, please contact us below.