At K-Wood, we have been manufacturing custom cabinets in Toronto for well over a decade
You can count on our knowledge and skill level to far surpass that of our competitors. Our on-site manufacturing facility houses state-of-the-art machinery that allows us to produce top of the line products in an efficient and speedy manner. We take great pride in producing only the best custom cabinets for our customers and that is why we watch our production line very closely including regular testing and quality assurance checks at every stage of our cabinetry production.
We understand that each home renovation project is unique to each customer and their space. That is why you can count on our helpful and caring team to simplify any complex issue you may be encountering and suggest an effective solution. You deserve to have the right cabinetry that not only fits with your style but is functional in your space. Don't waste your time with the hassle of trying to get a prefabricated cabinet to fit in your space. These cabinets use less than ideal materials and are often not made to last. Invest in the style, comfort, and functionality that our custom cabinets afford.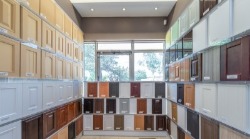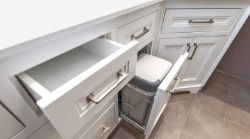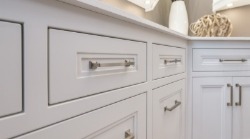 Have a project in mind?
Whether you are looking to gain more space, upgrade your current cabinets, or create organization through storage, you can count on the team at K-Wood to deliver. Our business is built on delivering our promises and achieving great results with our customers.
WHY US?
competitive pricing
Our on-site construction and design facility helps keeps costs reasonable, and we believe in passing this value onto our customers.
5 YEAR WARRANTY
On all our renovation services.
50 Years Experience
K-Wood has over 30+ enthusiastic team members that bring our clients over 30 years of combined cabinet making and renovation experience. Through creativity, knowledge, and craftsmanship, K-Wood has the capacity to undertake your unique project regardless of complexity.
INCREDIBLE FACILITY
With over 30,000 square feet of manufacturing, including CNC and Thermo Foil machines, three state-of-the-art paint spray booths and a newly expanded and renovated showroom, K-Wood is your one-stop shop for all your renovation needs.
Tight Quality Control
As a result of having our manufacturing on-site, we can monitor every detail of each project very closely ensuring only the best quality products.
Great Support
Our caring team is with you every step of the way. We are always available to take your call and help in any way we can. Building a open and trusting relationship with each customer is part of how we do business.
Contact Us
If you are a Toronto contractor and want to partner with us for custom cabinets, please contact us below.