Looking to improve or renovate your GTA home's kitchen? Look no further!
K-Wood's custom kitchen cabinets in Toronto can bring this important space to the next level
Our team of experienced professionals can transform your kitchen to match your needs and your dreams. Bringing in a new level of functionality and aesthetics, with a completely stress-free remodel.
We have a wide-range of design options that cater to all styles. Including a variety of finishes, woods, framing, and paneling. Add space and ease of use to your daily life! Convert or update your kitchen to bring out the chef in you and your loved ones, or impress family and friends with an inviting and warm living space. Bring personality and character to your kitchen with K-Wood custom kitchen cabinetry. Skilled, durable build and quick installation – the best the GTA has to offer.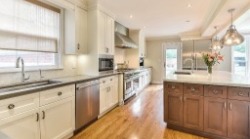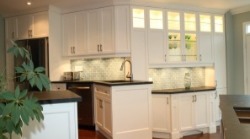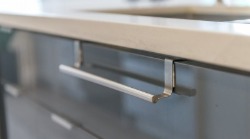 Have a project in mind?
At K-Wood, we have been manufacturing kitchen cabinets in Toronto for well over a decade. You can count on our knowledge and skill level to far surpass that of our competitors. Contact us today for a no-obligation quote!
WHY US?
competitive pricing
Our on-site construction and design facility helps keeps costs reasonable, and we believe in passing this value onto our customers.
5 YEAR WARRANTY
On all our renovation services.
50 Years Experience
K-Wood has over 30+ enthusiastic team members that bring our clients over 30 years of combined cabinet making and renovation experience. Through creativity, knowledge, and craftsmanship, K-Wood has the capacity to undertake your unique project regardless of complexity.
INCREDIBLE FACILITY
With over 30,000 square feet of manufacturing, including CNC and Thermo Foil machines, three state-of-the-art paint spray booths and a newly expanded and renovated showroom, K-Wood is your one-stop shop for all your renovation needs.
Tight Quality Control
As a result of having our manufacturing on-site, we can monitor every detail of each project very closely ensuring only the best quality products.
Great Support
Our caring team is with you every step of the way. We are always available to take your call and help in any way we can. Building a open and trusting relationship with each customer is part of how we do business.
Contact Us
If you are a Toronto contractor and want to partner with us for custom cabinets, please contact us below.